College of Engineering Career Fairs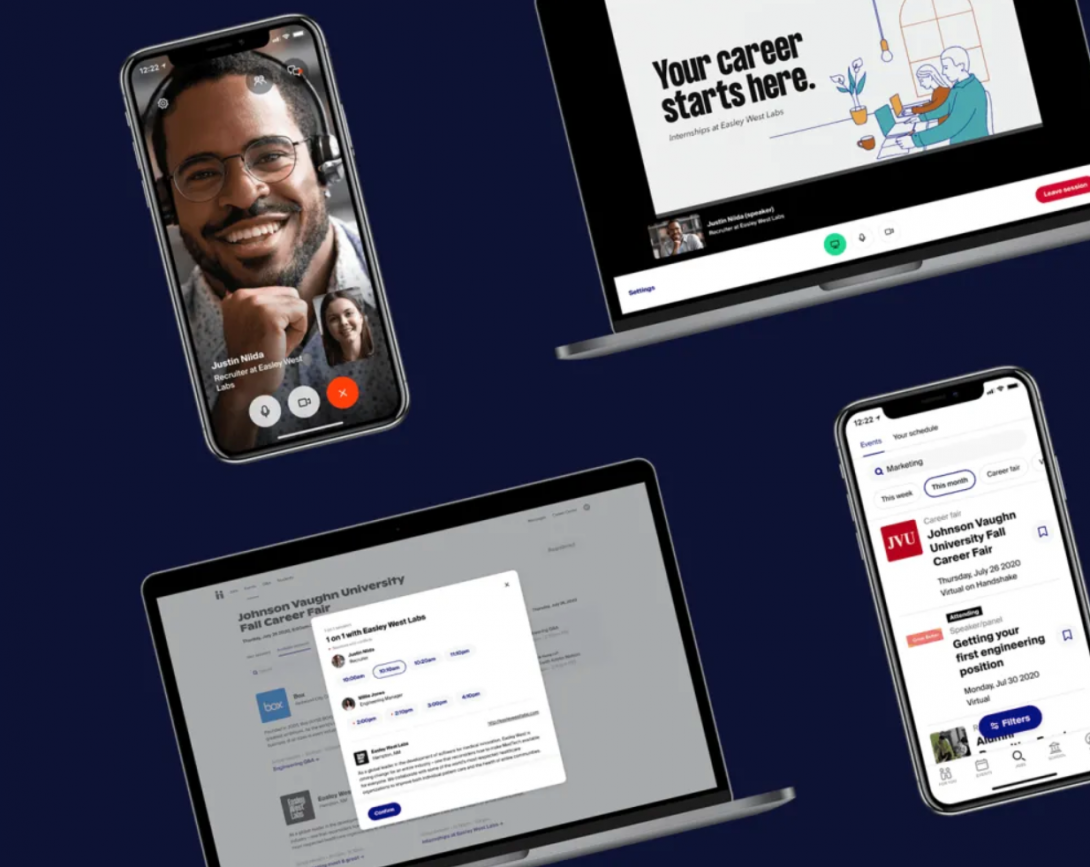 Register now for the Spring 2022 Two-Day Engineering & Computer Science Career Fair!
Day 1: February 2, 2022 | Time: 12pm – 6pm (Central Time) | Internship Recruitment Only
Day 2: February 3, 2022 | Time: 12pm – 6pm (Central Time) | Full-time Recruitment Only
Open to all UIC engineering students and alumni. 
If you need an accommodation in order to participate in the virtual career fair, please contact Jonna McHugh.
Students who do not have reliable internet access or a computer can contact Technology Solutions for an equipment loan.
UIC students will be required to claim their Handshake account in order to register for the virtual career fair. Claiming your account is as simple as logging in to Handshake using your UIC netID and password.

Complete your profile on Handshake and upload your resume. Make sure you select your preferred resume to be "featured/visible on profile" so employers can access it during the virtual fair. To help expedite your profile completion, consider building your profile from your resume.

Many employers attending the career fair will already have positions posted on Handshake. Once you've uploaded your resume to Handshake, applying for open jobs couldn't be easier!

In order to meet with employers during the virtual career fair, students must:

Register for the career fair AND
Sign-up for 1:1 sessions and/or group sessions

Virtual career fair registration will open for UIC students and alumni on Friday, January 21, 2022.

Instructions on how to register for the career fair

Instructions on how to sign-up for 1:1 and group sessions

Some Helpful Tips:

The virtual fair will be hosted in United States Central Time Zone. Please adjust accordingly.
Do not be late for sessions. You will not be able to join a session once it has started.
You cannot sign up for sessions that overlap.
You will be able to log into Handshake 5 minutes prior to your registered sessions to test your audio and video in Handshake.
Employers will continue to add 1:1 session availability and group sessions up until the day of the career fair. Continue to check back with employers you are interested in to see if they have added new sessions and make sure to register for them as soon as you see them.
Have a copy of your resume handy, in case the employer has difficulty accessing your resume through Handshake.

Get your resume looking polished and presentable

Research the employers you plan on meeting

Employers appreciate when you know about their business and their open positions: do your research!
Besides visiting company websites, check Handshake, LinkedIn, Glassdoor and news articles or blog posts to find up-to-date information on the companies you are interested in speaking with.
The more you know about your target employers, the more confidence you will have when meeting them at the career fair!
If possible, apply to positions on Handshake before attending the career fair. Employers will be impressed with your proactiveness!

Prepare an elevator pitch

An elevator pitch (30-45 seconds long) is what you say when introducing yourself to an employer during the career fair.
An elevator pitch typically includes your name, your major, year in school, and 1-2 highlights about yourself (e.g. a technical skill you know, a recent internship you had, a current project you are working on, etc.) and why you're interested in their company.
Practicing your elevator pitch will give you confidence when meeting employers at the career fair (and will also impress the employer).

Present yourself professionally

Make your first impression with employers a positive one; attend the virtual career fair looking professional, neat, and tidy. Suits are not required for a virtual fair, but business casual is strongly recommended.
Treat the virtual career fair like you would a virtual interview: try to find a quiet place where there are not a lot of distractions. Tidy up the room you are in and make sure you have good lighting before you turn your camera on.

What should I say to the employer?

Stand out in a positive way by sharing a memorable story in your elevator pitch (see previous section).
Ask questions! Employers love it when students ask questions, it shows that you are truly interested in the company.
Ask for the employer's contact info in order to follow up with the employer. They can't provide their email? Get their full name and connect on LinkedIn so you can follow up with them.

How should I present myself?

Employers notice how you carry yourself and your facial expressions say a lot.
Maintain professional behavior, as if you are in interview mode the entire time.
Remember video chat etiquette: turn your video on and keep your microphone on mute when you are not speaking. Try to sit in a quiet place and check to make sure you have good lighting so employers can see you.

Follow up with employers after you attend the career fair. This is arguably the most important step.

Use the contacts you collected and follow up with your target employers over email or through LinkedIn.
A brief email or personalized LinkedIn invite shows the employer your strong interest level in them.
Be patient. Employers/Recruiters are busy and will get back to you if they are interested.

The week before the virtual career fair, the Engineering Career Center will host a prep session to provide guidance for attending a virtual fair.

In this session, students will learn how to register for the fair, make profiles and resumes visible to employers, and tips for maximizing 1:1 sessions. Additionally, students will learn tricks to save time in your job search, such as setting up job alerts that are tailored to your interests, using Handshake to network with others in your chosen field, and getting employers to notice your profile.

Visit our Events page to see the date and time for the career fair prep session.