College of Engineering Career Fairs
Where Chicagoland's top employers and student talent meet!
SAVE THE DATE!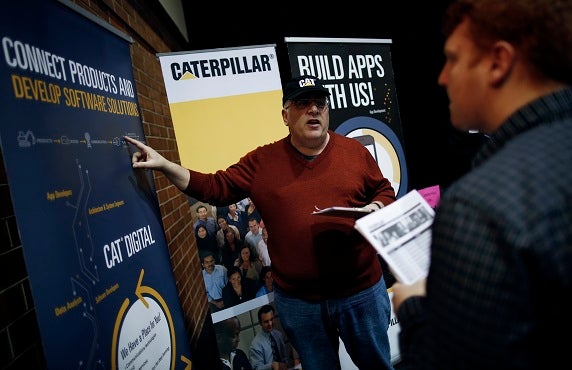 SAVE THE DATE! Virtual Fall 2020 Two-Day Engineering & Computer Science Career Fair
Day 1: October 6th | 1-5PM | Majors: Computer Science & Computer Engineering
Day 2: October 7th | 1-5PM | Majors: Bioengineering, Chemical, Civil, Electrical, Industrial, & Mechanical Engineering
Employer Registration Now Open!
Open to all UIC students and alumni ONLY
Students will be required to register for the Virtual Career Fair in order to participate. That means you will need to claim your account on Handshake, UIC's new job platform! Student Registration will be open throughout the duration of the event.
Get ahead by claiming your Handshake account today, and complete your profile!
If you require an accommodation or alternative in order to participate in the virtual career fair, please contact Jonna McHugh at jonnac@uic.edu.
Students who do not have reliable internet access or a computer can request a laptop or internet hotspot through ACCC. Supplies are limited. Please contact us if you are not able to obtain internet or computer access.
How to Prepare for a Successful Career Fair Experience
NOTE: This section will be updated by September 2020 with info on how to navigate the virtual career fair.
Before

Not sure where to start? Read below for tips on how to prepare for a virtual career fair or attend one of our career fair prep sessions!

Make sure your resume is polished and presentable

Research the employers you plan on meeting

Employers appreciate when you know about their business and hiring needs.
Do your homework on the employers you plan to meet: view the list of registered employers.
Besides visiting company websites, check LinkedIn, Glassdoor and news articles or blog posts to find up-to-date information on the companies you are interested in speaking with.
The more you know about your target employers, the more confidence you will have when meeting them at the career fair!

Prepare an elevator pitch

An elevator pitch (30-45 seconds) is what you say when introducing yourself to an employer during the career fair.
An elevator pitch typically includes your name, your major, year in school, and 1-2 highlights about yourself (e.g. a technical skill you know, a recent internship you had, a current project you are working on, etc.).
Practicing your elevator pitch will give you confidence when meeting employers at the career fair (and will also impress the employer).

Dress to impress the employers

Make your first impression with employers a positive one; attend the virtual career fair looking professional, neat, and tidy.
Treat the career fair like you would a virtual interview: try to find a quiet place where there are not a lot of distractions. Tidy up the room you are in before you turn your camera on.
If possible, all students should wear Business Professional attire when attending a career fair. Yes, even for a virtual fair!
We realize many engineers will never wear suits on the job. But for career fairs, wearing in business professional attire will show employers that you are serious about obtaining a job or internship. Wearing sloppy clothes or casual attire at career fairs makes employers think that you are not serious about wanting a job.
Definition of Business Professional attire: suits (blazer with pants, dress, or skirt), pressed blouses or collared shirts, ties, polished dress shoes, understated makeup & jewelry. Skirt/dress hemlines should reach the knee. Hair, including facial hair, should look clean and well-groomed.

Students will be required to claim their Handshake account to register for the virtual career fair.
You should also fill out your profile on Handshake because employers who are attending the career fair will "pre-select" students before the fair for 10-minute one-on-one virtual interviews during the fair!
Many employers attending the career fair will already have positions posted on Handshake.
If possible, apply to positions on Handshake before attending the career fair. Employer will be impressed with your proactiveness!
Some employers will host 30-minute group presentations during the virtual career fair. Make note of these before the fair so you don't miss out due to bad timing!

During

What should I say to the employer?

Stand out in a positive way by sharing a memorable story in your elevator pitch.
Ask questions! Employers love it when students ask questions, it shows that you are truly interested in the company
Ask for the employer's contact info in order to follow up with the employer. They can't provide their email? Get their full name and connect on LinkedIn so you can follow up with them.

How should I present myself?

Employers notice how you carry yourself and your facial expressions say a lot.
Maintain professional behavior, as if you are in interview mode the entire time.
Remember video chat etiquette: Keep your microphone on mute when you are not speaking. If you can, try to sit in a quiet place so there's minimal background noise.

after

Follow up with employers. This is arguably the most important step.

Use the contacts you collected and follow up with your target employers over email or through LinkedIn.
A brief email or personalized LinkedIn invite shows the employer your strong interest level in them.
Be patient. Employers/Recruiters are busy and will get back to you if they are interested.
Recruiter Tips for Students Attending Career Fairs