Hiring International Students
Organizations today are connected globally, and those who hire international students have a competitive advantage. International students bring great value to any organization and contribute to its success in many ways. International Engineering and Computer Science students in particular help increase the talent pool in an in-demand labor market.
There are misconceptions about hiring international students. In reality, it is not much different than hiring a U.S. Citizen. The information provided below can help to clarify the aspects of hiring international students.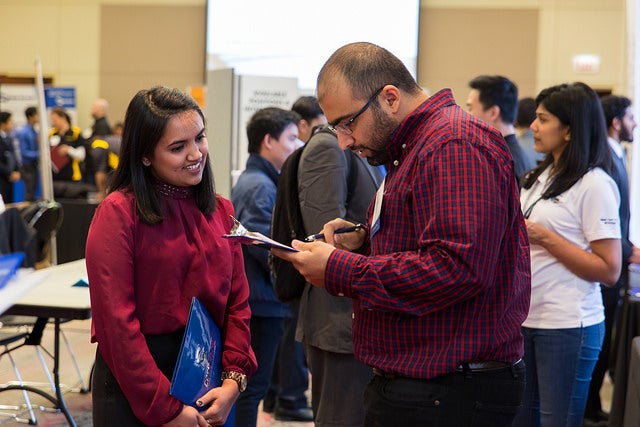 International students are authorized by the USCIS (United States Citizenship and Immigration Services) to work under CPT (Curricular Practical Training) for internships during during the course of their studies and OPT (Optional Practical Training) for internships and jobs after completion of their degrees.
In terms of process and cost, students own the responsibility of completing the paperwork and submitting it to the appropriate authority. In CPT and OPT cases, employers do have to provide some details about how their positions will train students in their field of study.
There is no need for employers to apply for or sponsor any visas during CPT and OPT periods.
Internships

International students do not require visa sponsorship to participate in U.S.-based internships.
International students who are enrolled full-time in degree-seeking programs are eligible to work in internships off-campus after their first year of completed UIC coursework on an F-1 visa.

Exception: Undergraduate and graduate students who are on academic probation may not apply for CPT during the academic year, but they may apply for CPT for a summer internship.

Work authorization for CPT is issued/sponsored by UIC.
Hiring an international student for an internship through CPT requires the employer to complete an online form as part of the student's CPT application. The only other requirement from the employer is to fill out a brief evaluation of the intern's performance at the end of their internship.
There are no costs associated with CPT for the employer when hiring an international student for an internship through CPT.
Students apply for CPT in conjunction with their academic department and the UIC Office of International Services.

Full-time vs. Part-time:

International students can work full-time (40 hours per week) during the summer months on internships.
International students can work part-time (20 hours per week) during the academic year.

Full time

International students have at least 12 months of U.S. work authorization after graduation once they have applied for Optional Practical Training (OPT).
STEM (Science, Technology, Engineering, and Mathematics) students are eligible for 24 month OPT extensions.
The STEM extensions allow international students to work for up to 36 months (3 years) upon completion of their degree.
During the OPT and STEM extension periods, employers do not need to provide visa sponsorship.
International students are responsible for completing most of the necessary OPT paperwork.
There are no extra costs for the employer who hires an international student on OPT.
Students apply for OPT through the UIC Office of International Services.

Advantages

New perspectives and problem solving skills.
Motivated, adaptable, and have demonstrated perseverance.
Courage to tackle the unknown and excel in diverse workplaces.
Proficient in foreign languages and have knowledge of the markets, business practices, and cultures of other countries.

Resources

We welcome any employer to contact the UIC Engineering Career Center at any time with questions about how to hire an international student for an internship or full-time position.

In addition to the Engineering Career Center, at UIC we also have a dedicated Office of International Services (OIS) that provides an array of essential services and programs to assist international students:

OIS provides immigration rules and regulations counseling and advising to international students, faculty, staff and scholars.
OIS facilitates the transition of international students, faculty, staff and scholars to life at UIC and the U.S. by providing continuous services aimed at assisting in the transition to UIC.

Please encourage UIC students you are interested in hiring to visit the OIS website for additional information.