Searching
Opportunities are Everywhere
The most successful job seekers take a varied and proactive approach to their search. This goes beyond filling out numerous online applications and waiting for a phone call from a recruiter. View our tips below to help you maximize your job and internship search.
­
COVID-19 Search Resources
Updated 2-24-20

Here is a list of companies currently hiring as of 4-24-20 that the UIC Engineering Career Center has researched. The Career Center team will update this list as often as possible.

LinkedIn also has a great company hiring list – many engineering/computer science positions are listed towards the bottom.

Github has a list of tech positions that is regularly updated.

Get Hired Illinois is a brand new state of Illinois complied list of companies hiring in Illinois and list of virtual career fairs.

For a quick job as you look for more full-time work, apply to be a Contact Tracer for IDPH.

We do want to caution that this list does not contain every company that could be hiring during the pandemic. Please view our list of job/internship search boards below to assist you with your internet search.

A proactive job search could include:

Identifying target companies and their competitors that interest you.
Identifying alumni who work at target companies that interest you.
Identifying and attending networking events regularly.
Creating profiles and email alerts from various job search sites.
Volunteering at and attending conferences offered by professional associations that interest you (IISE, ASCE, etc.).
Building leadership skills by gaining experience in student organizations (engineering, or non-engineering).
Creating a LinkedIn profile, Handshake profile and resume as early as Freshmen year.
Attending a career fair with a job secured for the purpose of networking and exploring options for your next job search.
Following up on applications, career fair visits and networking encounters to increase employment opportunities.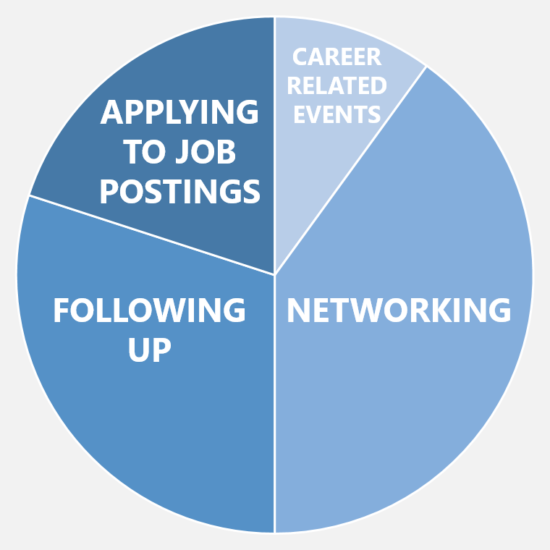 Breaking Down Your Search
40% of your time expanding and reaching out to your network, using LinkedIn, networking events, and taking a look at who you know.
30% of your time following up on your applications and your networking efforts, including career-related events you attended.
20% of your time applying to job postings.
10% of your time attending career related events including career fairs, employer site visits and information sessions.
Next Steps: Following Up
Recruiter Tips for Students Attending Career Fairs