College of Engineering Career Fairs
Where Chicagoland's top employers and student talent meet!
SAVE THE DATE!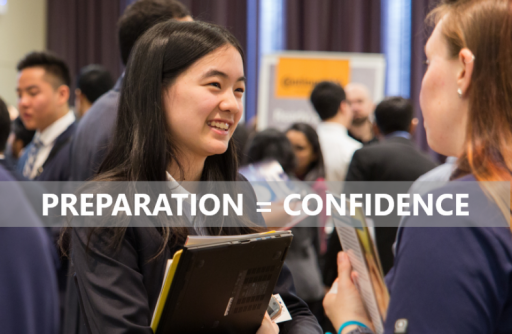 Thanks for attending the Fall 2019 Engineering & Computer Science Career Fair!
SAVE THE DATE: Spring 2020 Career Fair!
February 12th, UIC Forum, 12pm-4pm
Majors: Bioengineering, Chemical, Civil, Computer Science, Computer, Electrical, Industrial, and Mechanical Engineering
How to Prepare for a Successful Career Fair Experience
Before

NOTE: If you need accommodations at the career fair due to a disability, please contact Jonna McHugh (jonnac@uic.edu) before the fair with a description of what you will need.

Make sure your resume is polished and presentable

Should be neatly formatted with relevant content. Examples: ecc.uic.edu/resume.
Make sure to check for spelling and grammar errors. Visit us for a resume review if you need help updating.
Resume paper is ok to use, but keep it simple and not too flashy (light color).
Carry your resumes in a padfolio or nice folder.
If your resume is two pages, print out both pages and staple (no printing on back-side).

Research the employers you plan on meeting

Employers appreciate when you know about their business and hiring needs.
Do your homework on the employers you plan to meet: view the list of registered employers.
Besides visiting company websites, check LinkedIn, GlassDoor and news articles or blog posts to find up-to-date information on the companies you are interested in speaking with.
The more you know about your target employers, the more confidence you will have when meeting them at the career fair!

Prepare an elevator speech

An elevator speech (30-45 seconds) is what you say when introducing yourself to an employer during the career fair.
An elevator speech typically includes your name, your major, year in school, and 1-2 highlights about yourself (e.g. a technical skill you know, a recent internship you had, a current project you are working on, etc.).
Practicing your elevator pitch will give you confidence when meeting employers at the career fair (and will also impress the employer).

Dress to impress the employers

Both women and men should wear professional business attire when attending a career fair.
We realize many engineers will not wear suits on the job daily. But for career fairs, arriving in a suit will show employers that you are serious about obtaining a job or internship. Wearing sloppy dress or casual attire at career fairs makes employers think that you are not serious.
Women: Suit, natural looking make-up, no bulky jewelry, skirt/dress hemlines should be below the knee.
Men: Suit and tie, pressed shirt, fresh haircut, polished dress shoes.
Make your first impression with employers a positive one; attend the career fair looking neat, tidy, and smelling clean. 

During

Navigating the career fair

Arrive early if possible. There will be a large turnout and you want to make sure you are able to meet with all of your target companies.
Make sure to grab a career fair program at the student check-in area. It will contain the career fair map – which will show you where each employer's table is located.
Consider visiting with smaller companies first, then visiting with more popular companies afterwards.
Popular companies will have long lines. If you arrive to the career fair early, try to meet with them first. If you arrive late, visit with smaller companies first, then stand in the line for the larger companies.
Maintain professional behavior, as if you are in interview mode the entire time. You never know when an employer may be listening!
Ask for a business card in order to follow up with the employer. No card? Get their name and look them up on LinkedIn so you can follow up with them.
SMILE! Employers notice how you carry yourself and your facial expressions say a lot.
Stand out in a positive way by displaying sharing a memorable story in your elevator pitch.
Ask questions! Employers love it when students ask questions, it shows that you are truly interested in the company.

Many employers attending the career fair will already have positions posted on UICcareers.com.
If possible, apply to positions on UICcareers.com before attending the career fair. Employer will be impressed with your pro-activeness! It will also enable you to have a more productive conversation at the career fair (recruiters can't tell you to apply online, since you have already applied).

after

Follow up with employers. This is arguably the most important step.

Use the business cards and names you collected and follow up with your target employers over email or through LinkedIn.
A brief email or LinkedIn invite shows the employer your strong interest level in them.
Be patient. Employers/Recruiters are busy and will get back to you if they are interested.
Recruiter Tips for Students Attending Career Fairs
Highlights from a recent Engineering Career Fair