Searching
Opportunities are Everywhere!
The most successful job seekers take a varied and proactive approach to their search.
This goes way beyond filling out a bunch online applications and waiting for a phone call from a recruiter.
­
A proactive job search could include:
A proactive job search could include:

Identifying target companies and their competitors that interest you.
Identifying alumni who work at target companies that interest you.
Identifying and attending networking events regularly.
Creating profiles and email alerts from various job search sites.
Volunteering at and attending conferences offered by professional associations that interest you (IISE, ASCE, etc.).
Building leadership skills by gaining experience in student organizations (engineering, or non-engineering).
Creating a LinkedIn profile, UICcareers.com profile and resume as early as Freshmen year.
Attending a career fair with a job secured for the purpose of networking and exploring options for your next job search.
Following up on applications, career fair visits and networking encounters to increase employment opportunities.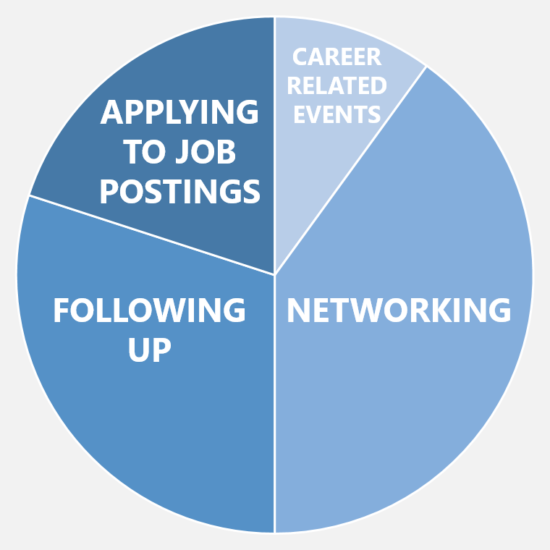 Breaking Down Your Search
40% of your time expanding and reaching out to your network, using LinkedIn, networking events, and taking a look at who you know.
30% of your time following up on your applications and your networking efforts, including career-related events you attended.
20% of your time applying to job postings.
10% of your time attending career related events including career fairs, employer site visits and information sessions.
Next Steps: Following Up
Recruiter Tips for Students Attending Career Fairs